Millions of viewers have seen Meg Flather on QVC, USA and on The Shopping Channel of Canada as a brand ambassador and skin wellness expert. But in her new book, Home Shopping Diva: Lessons, Lyrics, and Lipstick, we learn that there is much more to her story.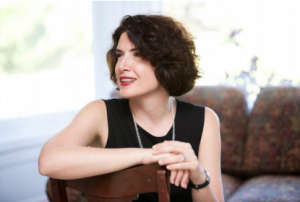 I am the writer who did not know she was a writer. I can't spell to save my life and I sprinkle commas like sugar all over the place, completely ignoring any rules that Mrs. Goldberg was trying to teach me back in 1974.
What I can share with you is how I overcame the voices that said, "Who do you think you are? You don't know how to write a book! Who taught you anything about writing books? What was the last book you even read, anyway?"
Ouch!
That first morning as I sat at my little antique table with my cat lounging on the bed to my right, and the sounds of the city waking up through the opened window to my left, I was stuck. I kept seeing a panel of really smart, academic writing types rolling their eyes at me in my mind.
The cool girls in the 7th grade locker room were back. Anyone who ever rejected me was back and nastier than ever.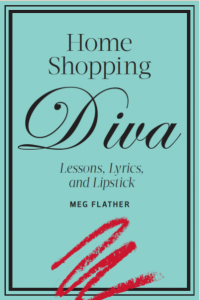 The idea of writing my book came from audience enthusiasm after I performed the one woman show that shared the book's themes.
People from all walks of life cried, laughed and applauded my story in the darkness of a west side Cabaret because it resonated with them. My making lemonade out of lemons story was universal. It had use.
What to do with the imagined panel of literary critics, the locker room cool girls and the elephant not just in the middle of the room, but sitting on my computer key board?
I remembered something. I remembered reading that everyone has a book in them, every single one of us has at least one story to tell. Not just the elite, the chosen few, all of us. Oh, and I am a reader too, dog gone it! I am a customer. I have opinions, and the books I like to read reach me because I feel the writer's heart, the writer's vulnerability, (dare I say it?) the writer's ordinariness.
And then the idea came to me: how about writing to one person, an imaginary, ordinary and therefore extraordinary friend who brings out the very best in me? A friend who makes it completely safe to share? I would meet this friend every morning in my mind for coffee and simply tell her my story exactly as I would speak it face to face, across the Formika table at the Flame Coffee Shop on 9th Avenue and 58th Street.
With that the panel of literary critics evaporated, the cool girls left the locker room and the elephant himself up and off my keyboard and walked out my bedroom door. I looked at that blank, very white, very bright Word document staring at me and started to type. That is how I let go. That is how I began writing, "Home Shopping Diva…Lessons, Lyrics and Lipstick."
—
Find out more about Meg and her novel:
Category: Contemporary Women Writers, On Writing