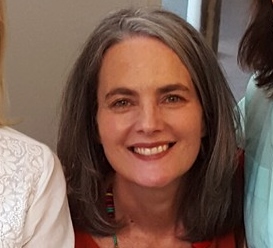 People often ask me 'when did you know you wanted to be a writer?' And to be honest, I didn't. Writing novels seemed like a job for people who lived "Overseas", not for people who lived in Zimbabwe.
I was, however, a great reader. I often got told off for reading when I was supposed to be doing my homework. Friends would hide their books when I came to play because I would end up reading instead of playing with them.
Interestingly enough, the career guidance counsellor I went to before I started university suggested writing as a career for me. But at that stage – this was thirty years ago – creative writing wasn't something you could study in South Africa so I took English and Drama. English bored the pants off me, it was Drama Studies that gave me the grounding in storytelling that I was looking for.
I thought I wanted to be an actor, but my heart wasn't really in it. I worked for a few of years doing kids' theatre, did a couple of TV adverts and I did stand-up comedy. I loved the writing part of that but the performing was terrifying. I would rather do natural birth all over again. Twice. I was useless with hecklers, I used to only think of a funny response about two weeks later standing in the queue at the grocery shop.
It was when I was unemployed for a year that I started writing my first novel. It was a novel I would never finish, but I got good enough feedback from an agent at the Darley Anderson Literary Agency to give me a little bit of hope (don't underestimate what a bit of encouragement can do for someone!)
I had written a number of educational plays and had been commissioned to write a musical for a local prep school when I decided to do an MA in creative writing at Wits University.
It was also during this time that someone connected with the local soapie Generations came to see a play I wrote and asked me to write a test script for their show. It was a helluva sharp learning curve but that's basically how I fell into my career as a TV writer. I was thirty-four at the time.
In terms of writing my novel Ms Conception, I wrote two chapters as part of my masters, took another two years to write the third chapter and then finally made up my mind in the January of the year that I turned forty that I would finish the book by my fortieth birthday.
It was quite a long and tortuous route to getting published. First of all I entered the book into a competition and I got phoned by the publisher who said that she didn't think the book was suitable for the competition but she loved it wanted to get it in shops by December blah blah. This was the year after I had finished it.
Of course I told the whole world that I was getting published, made the changes she requested, sent the edited manuscript back to her and then…nothing. It was like she had developed amnesia. Gradually she just stopped returning my emails. I felt like a complete idiot.
I then sent the book off to all the other local publishers. I had some nice feedback but no-one was keen. Finally I decided to self-publish. But I'm obviously challenged in that area and couldn't work out how to do it, so I was ready to give up.
I then bumped into a classmate from my MA class who suggested that the publisher of eKhaya – a Random Struik imprint was looking for decent novels. I sent it off to him never expecting to hear another word and then on Human Right's Day in 2012, he emailed me back and said that they wanted to publish it.
I was thrilled! The book was supposedly only going to be published digitally but we did get a few printed versions. Virtually no marketing was done so if I sold a hundred and fifty copies it was a lot.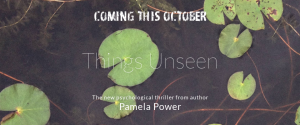 I then set about working on my next book. I couldn't decide what to write next so I wrote two books – one a psychological thriller, and one a domestic suspense.
At the stage I thought Ms Conception had sunk without trace. But then I got an email from Penguin Random House South Africa saying that they wanted to bring it out in print. I was unbelievably excited. That is really where the whole book journey began for me.
And in terms of what's next, my domestic suspense, working title Delilah will be published by PRH SA in April/May 2017 and the psychological thriller comes out in October this year. It's called Things Unseen.
It's been published by a small independent publisher called Clockwork Books. I have had the most wonderful experience being edited by Sarah Mcgregor at Clockwork. She did such a thorough job. Admittedly I sulked for three days after I got the notes, but reading the manuscript now, I am so thankful for all her suggestions.
Fiction writers make virtually no money from their books, particularly in South Africa so I still work as a TV writer and editor. Writing for TV makes you tough, the criticism we get from the fans and from the producers can be harsh, but I think it makes us more open to the editing process when it comes to our fiction writing.
Writing dialogue is obviously my strength and I find that much easier to write than the descriptive bits. My books tend to be dialogue heavy and at first that worried me, but now I've realised that is my style.
And just to give you some perspective about age. I was forty-three when my book was published digitally, forty-six when it came out in print. I am a late bloomer and the best part is I don't feel at all jaded or cynical. I've met wonderful people, I'm totally committed to promoting South African literature and encouraging writers whenever I can. I'm loving the whole experience!
—
Pamela's journey to novelist has taken her via drama, teaching, stand-up comedy and Aids counselling. Currently a script writer and editor for the popular soapie Muvhango, Pamela's second novel, Things Unseen, is published by Clockwork Books. Pamela lives in Johannesburg with her husband and two children.
Blog: pamelapower.co.za
Twitter: @pamelapower
Category: On Writing