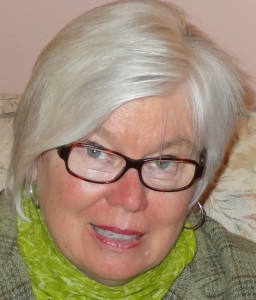 There is no such thing as a dearth of writing material.
We sit with fingers poised over the keyboard and are met with a ghastly silence that threatens to be our undoing. All we need to do is to call up the past. One's own past might seem mundane, but get out your microscope. Look at past memory under the prism of your added experience.
'Memory lists' can be life-saving when it comes to new ideas for writing; all kinds of lists. There are the daily 'to do' lists, the grocery lists, the birthday reminder lists, the books-you-want-to-read-someday lists. It dawned on me recently that if I keep my lists for future reference and if I develop a new list of my earliest memories they might come in handy, might work their ways into stories, articles, other writing pieces.
There was my dad's drug store list. He bought the same things every week. Nothing new made it onto that sacrosanct list of necessities. I kept the last list he wrote because I had a feeling it might be just that; our last trip to the drug store together. I taped it into my journal. His printing is huge, as mine will be if I get to be 93, a bit spidery (ditto), and this is how it reads: "Hall's Cherry Cough Drops, Gold Bond Powder, Wurther's Butterscotch candies, Colgate Toothpaste."
That list touches me in a way that none other could. Someday I'll do something with it. Perhaps I'm doing 'something with it' right this minute as I tell you about it, but someday I'll give it the gravitas it deserves. It will add a touch of spice to the memory soup of my terrific dad.
Recently I decided to create a list of my stash of childhood memories. Et voila!
I think about how it was when I was five, when I was eight, when I was an adolescent trying on my friend's mother's makeup when she was out. Me; with Mrs. Munroe's mascara smeared on my eyes and her lipstick scribbled crimson across my immature mouth. How did I have the nerve? But what fun to think of it now. How realistic it could be should I ever write about a twelve year old girl. I'm the expert. I was one.
Memories breed ideas.
To give writing zing, we need only to enhance memory with a dash of hyperbole, the writer's best friend. In this case I'm starting out honest. You start out honest too. The hyperbole can help you out if you need it later.
The late Canadian writer Carol Shields once talked about writing as if you are making a stew. Layer it, add the onion, then take another look at what you've created. Add a red pepper. Add a sprig of cilantro. Go back and read it again and ask yourself what's missing. I suggest that you have your list on hand too so that you can keep adding new flavours.
As an example, I was thinking the other day about how pregnancy has changed. Today's young women look confident, glamourous with their tight shirts stretched across their baby bumps.
And I remembered this. When I was about ten years old I asked my mother why my Aunt was wearing such a funny blouse. It was a pink satin voluminous get-up that looked a bit like stage curtaining. Seems she was 'expecting". I wasn't sure what she was expecting; a telephone call? a letter? a package? As it turned out she soon afterwards produced a baby boy. And that memory makes me laugh today as it shines a clear light on the 1950's take on biology, secretiveness, the attitude towards pregnancy/sexuality/womanhood, the naivete expected of children in that era. If I ever write a period piece about 1957, I've got what I need straight out of my own experience.
There was another Aunt and her brood of blonde boys. They were like something from the cast of "The Darling Buds of May"; rambunctious, fun, wonderfully different from ourselves. My Aunt kept movie magazines everywhere. Movie Stars, at our house, were considered proof that womanhood had slipped and sunk, but in Aunt Nelly's house they were upheld in their gloriousness in huge tottering piles on every kitchen chair so that you had to move them to sit down. What treasures flowed in that household to my young eyes. And in their back garden they kept a pig. If we stood very high on the wire fence we could pat Molly's back. I'm not sure why they kept her as they were far too kind to have used her for pork chops. That family made its way into a piece of writing I once read aloud.
My Grandmother's living room was full of things I loved to look at; the porcelain Chinese philosopher with his long wispy beard, the wicker work basket from England with sea shells under the glass panel, a black and white photo of her own mother which hung over the end table. I never could make out the face. The black on white played tricks on my eyes so that I saw the reverse image. For years I wondered why Grandma had a photograph of a goat hanging in their sitting room. I wrote about my Grandmother for an English magazine. Many of these tiny remembrances helped me to recreate her essence.
My father's entire huge family had all come out from England to Canada to try their luck in the new land. They all lived within a three block range of our own house. Is that why I love English novels? And Sticky Toffee Pudding? And the music of the English church? And Elgar? Britten? The Beatles? And from amongst those facts what have I used to push my writing agenda forward?
Perhaps Edith Wharton kept lists. She did use her early memories to enhance her own work.
In his biography "Edith Wharton", (1985, International Publishing Corporation), RWB Lewis mentions how Edith's own mother, due to a lack of funds in her youth, had been forced to wear a pair of "decrepit and ill-fitting white slippers". That humiliation was life long. We see it revisited in Wharton's novel 'Summer' when we read of Charity Royall dancing in the white slippers of her nemesis, Annabel Balch.
Lewis further refers to Wharton's Aunt Mary, who in her advancing age and decrepitude comes back to life as the character of Mrs. Manson Mingott in 'Age of Innocence'.
When Archer in the same novel declares to Ellen Olenska "Each time you happen to me all over again", perhaps Edith was thinking of her own feelings for Morton Fullerton whom she continued to love even after he had treated her less than honourably.
There are other references, too, that reflect Wharton's childhood. The portrait of Selden's mother, for example, in 'The House of Mirth', is described as being "all smiles and Cashmere". Edith knew the world of Cashmere well and had sat for her own portrait on more than one occasion.
The late Barbara Pym, the English novelist, is one of my favourite writers. She was known for her depiction of academia, of the survival skills of unmarried women, of Vicars and the Church of England, of the dissection of English life as if it were founded on tribalism. She wrote with a stark, amusing realism. It is not surprising then to discover that she loved lists. Her profession as an indexer at an African Journal required all kinds of list making. According to this article from The Indexer, Vol 14, no 4 (October 1987) by Hazel Holt, Barbara would do a verbal run-through of what she needed to write up as though it were a Litany: "Abortion, Administration, age-sets, agriculture, amulets, ancestors, animal husbandry…"
And too, when she was trying to get to sleep, she would murmur aloud lists of African tribes that started with the same alphabet letter, in one case the letter T: "Teke, Tio, Toro, Tswana, Tutsi…"
Anybody who has ever read a Pym novel will connect with how she used her habit of listing to inform the tales she invented.
As you work through your own memory list, do not omit memories of the five senses. They make the written word bounce.
A particular memory came back to me when I was thinking of the sense of smell. My mom's friend Greta doused herself with a 1960's perfume known as TABU. With her soft Scot's accent Greta seemed more exotic to me than the other women in my mom's coterie of friends, besides which Greta had a phone booth made of oak in her front hallway. So when Greta one afternoon daubed some TABU on my woollen blackwatch scarf I was in Heaven. Every morning as I trudged through the snowbanks along Highway Six en route to school I could smell Greta's perfume on my scarf. It doesn't take much for me to coax my olfactory senses even now to conjure up that same aroma.
When the senses filter into the written word the believability factor is strengthened. Start your list with the earliest sounds you remember. Move on to Sight, to Smell, to Touch, to Taste (see reference to Sticky Toffee Pudding!)
What shows up in the mirror of your life?
You will see how each bit of your recall might fit snugly into a short story or into some Creative Non-Fiction. All of it will lead you back to who you are and to why you wanted to write in the first place.
Maybe it is our earliest evocations that form the Writer Within. Some people are more attuned to picking off the romance of time/place/situation than are others.
Polish the helpful memories as if they were gemstones. Memories that sting, clutter and jar can work too if you are comfortable using them. If not, the dustbins of our past serve a noble purpose.
Stir up your own pot of Memory Soup.
As Carol Shields advised, keep layering.
A little TABU on your scarf and you're off.
—
Judy Pollard Smith writes from Hamilton Ontario. Her book "Don't Call Me Lady, The Journey of Lady Alice Seeley Harris" is available through order at your favourite bookstore, online at Amazon, or through Abbott Press, either in hard copy or e-reader.
Category: Contemporary Women Writers, How To and Tips