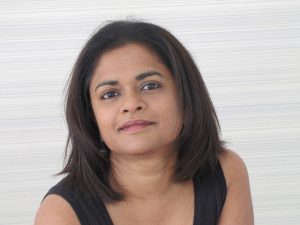 For the first 27 years of my life I didn't cook much. Once I got married, Søren, my husband, did most of the cooking at home. I could follow a recipe if I needed to, but I couldn't just look in the fridge as my husband could and put a meal together. I was never much interested in food.
When I first moved to the United States from India, I arrived in Memphis, Tennessee, where I went to the University of Memphis. I was excited about living in the United States – about finding a whole new world. I certainly did. New people. New cultures. New food.
Growing up, I was a picky and unhappy eater. I remember sitting at the dining table for hours after everyone had left, fighting with eggplant curry and rice, not being allowed to leave the table until I finish my food. I was around seven then. In India, we eat with our fingers and my fingers move idly around the plate, and I was an expert at spreading food on the plate so it looked like I had eaten everything when I hadn't. I was not fooling my parents.
A proper Andhra meal – the state I come from – has various courses, all of them eaten with rice. It starts with a vegetable curry; this can be eggplant curry or cauliflower curry. After the vegetable course we move to the pickle course. This can be mango pickle or lime pickle and it's also eaten mixed with rice. I always skipped this course; the pickles were too spicy for me. Then came the lentils course – this could be a tomato dal, spinach dal or the famous Andhra dish, sambhar, which is sort of a lentil soup with vegetables. The curd rice follows the lentils. Curds are yogurt and every Andhra home has plain yogurt that is made at home every night. My mother would boil milk and once it cooled, she would add yogurt from the previous day and put it into the fridge. The next day we'd have fresh yogurt. I never liked yogurt rice. I still can't eat it. Instead, I would eat the Indian-version of junk food – street food that was terribly unhygienic and had no nutritional value whatsoever. I had a tenuous and uneasy relationship with food then.
Food, which had been a battleground while growing up, had not resolved itself in this new world of Taco Bell, Pizza Hut, grits and biscuits with gravy. I struggled with what to eat and when to eat. I learned to eat after I met my husband, Søren. He came from a Danish family with correct food habits – breakfast, lunch and dinner. He couldn't imagine skipping a meal. And here was his new girlfriend who forgot to eat for a whole day and wondered why she felt a little woozy.
From Memphis, we moved to Silicon Valley and I started to learn to eat – to enjoy food. In California, we had access to excellent supermarkets and restaurants. And after living in the US for nearly eight years, we moved to Denmark and that too to the ass-end of nowhere on a small island way up north. There were no takeout options. No Armadillo Willys, no Boston Market, no Dasaprakash for Indian food, no gourmet pizza place at the corner, nothing. Food choices were limited and even the grocery stores weren't helping much with their limited variety of raw ingredients. I was starting to itch for good food.
Craving good food is why I started to write my first book, Serving Crazy with Curry. The book is about a woman who attempts suicide and during her recovery starts to cook (while she doesn't speak). I learned to cook with my character Devi who was cooking outrageous, glorious meals in the book.
The process didn't happen overnight, but thanks to Epicurious, Jamie Oliver and other helping hands I started to experiment with food. Since I was writing full-time, I had the space and the energy to cook.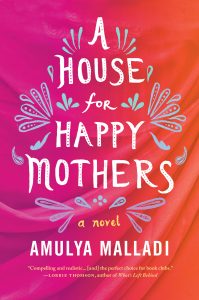 Søren would come home for lunch because we lived so close to his work (in all honesty the island was so small that rush-hour traffic consisted of one other car on the road). I made salmon mousse for lunch. I baked rosemary bread. I made French onion soup. Louisiana barbecue shrimp. Warm raspberry salad. Duck à l'orange and stuffed mushrooms. I cooked up a storm.
Not everything tasted as it should but between Tobias, my son who was a year old then, and me, we cooked a lot. He would sit on a counter in the kitchen and "help." He tasted everything I put in front of him. Once he even accidentally bit into a chili and seemed to contemplate the taste even as tears rolled down his face. Today, Tobias is adventurous with food and always orders the "strange" thing on the menu. He will try escargots in Paris; and he will try spaghetti alle vongole in Rome and for his fourteenth birthday, he had lunch with his father at Copenhagen's famed NOMA, one of the best restaurants in the world. I like to think that while I learned to cook, he learned to eat.
For someone who once had a dubious relationship with food, I have become a bit of a foodie. I went from looking at a piece of steak suspiciously to wanting it medium rare and paired with a glass of Amarone. I went from not understanding that wine goes with food to knowing the kind of wine I want to drink with the food I make. I went from never ever eating to sushi to it becoming a staple in our takeout lives. I went from never eating shellfish to making kick-ass lobster bisque from scratch. I went from curiously looking at Corky's barbecue ribs in Memphis to having my own special barbecue sauce recipe (with espresso and Chipotle).
And I owe it all to Serving Crazy with Curry and my crazy character, Devi.
Thanks to her and the book, today I can plan a full Italian menu for an upcoming dinner party. I am contemplating a Tiger prawn antipasti; primi: sweet potato gnocchi with truffle shavings and fried sage leaves; secondi: monk fish with leeks in a saffron sauce; and dolce: a blackberry-basil panna cotta. And of course Italian wine to go with each course.
Buon appetito!
—
Amulya Malladi is the author of six novels, including The Mango Season and Serving Crazy with Curry. Her books have been translated into several languages, including Dutch, German, Spanish, Danish, Romanian, Serbian, and Tamil. Her sixth novel, A House for Happy Mothers, will be released by Amazon's Lake Union Publishing in June 2016. She lives in Copenhagen with her husband and two sons.
You can connect with Amulya at www.amulyamalladi.com.
Praise for A House for Happy Mothers:
Named a "Summer Book Pick" by 
Redbook, Working Mother, SheKnows, and Brit + Co
"Malladi (The Mango Season, 2003) examines India's surrogacy industry with honesty and grace. This slice of life will touch all women who have struggled with conception and/or poverty. This thought-provoking novel will be a sure hit with book groups." —Booklist, Starred Review
"Malladi (The Mango Season) writes a poignant novel from two difficult perspectives that spans several complex and often controversial topics. This title would make a great book club selection." —Library Journal
"A House for Happy Mothers explores the lengths people will go for family. The characters are nuanced and sympathetic, and the dueling perspectives of a surrogate and the biological mother are commendable." —RT Book Reviews
"The story provides an intriguing glimpse into the surrogate industry and casts light on the emotional toil those involved face." —The Associated Press
"A feel-good story that warms the heart." —Redbook
"This thoughtful novel examines India's surrogacy industry with honesty and grace." —Brit + Co
Category: Contemporary Women Writers, On Writing