KILLING HAPLESS ALLY, ANNA VAUGHT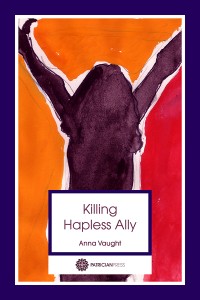 A tale of an individual grappling for sanity and identity; a black comedy in which we discover how Alison, its curious protagonist, conceived in childhood an alter ego called 'Hapless Ally' in order to present a different, more palatable version of herself to her family and to the world beyond.
Ominously, the alter ego began to develop autonomy: you learn how Alison had to deal with that: she had a lot of help from a varied catalogue of imaginary friends! The book is about serious matters: fear, confusion, dark days of depression and breakdowns.
Killing Hapless Ally carries with it a timely message to anyone poleaxed by depression and associated problems – or any reader interested in the windings of such things: you can, like Alison, survive and prevail. Ah, but how would you do it? If you had to – to survive – would you kill for it? Now that is an interesting question.
You can buy Hapless Ally on Amazon UK  Amazon.com Waterstones Online
and from the publisher: Patrician Press
Find out more about Anna on her website http://annavaughtwrites.com/
Category: Contemporary Women Writers