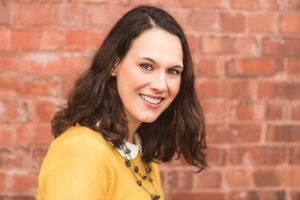 Last year, I doubled the number of books that I usually read. From the time I made one simple change to the end of the year, I read an average of eleven books a month. That simple change: I joined Litsy.
Litsy is a social media platform for readers. Users (sometimes called Littens) post blurbs about books they're reading, favorite quotes, and pictures. Oftentimes, you'll hear the app pitched as Goodreads meets Instagram. Don't use either? Don't worry. It's accessible, interactive, and welcoming. Litsy can also be a great place to connect to readers by joining in on conversations about what you're reading. After all, lots of us began writing because we love to read.
How do you use Litsy? First, create a profile. Litsy is app-based, so download the app to your iPhone or Android. Create a username that will help others find you. To enable people to connect with you off of Litsy, update your profile with an avatar and description. My description, for instance, includes links to my Twitter, Facebook, and blog.
The home screen of the app features several icons. The house icon displays the posts of people you follow and allows you to comment on or like their posts. The spyglass helps you search for users, books, or hashtags being discussed, while the plus sign allows you to create a post of your own (either a quote, blurb, or review). To create a post, hit this button and enter in the author or title of a book on which you would like to comment. Adding a picture helps you stand out, even if it's just a snap-shot of your glass of wine at the end of the day. Like Instagram, you can add stickers and filters, but they aren't necessary. Rather than giving stars for reviews, Littens rate books as either thumbs-up, so-so, pan, or bail. As someone who constantly dithers on whether to review a book as three, four, or five-stars, I appreciate this simplification.
Once you create a post, notifications appear at the lightning bolt. One neat aspect of Litsy is that the more people who like your posts or add books you review to their to-read stacks, the more "litfluence" you get. It's a nice reward feature that incentivizes discussion. The final icon on the taskbar, a person, brings you to your personal profile.
Litsy connects users by book—so looking at particular book's pages, you can join in conversations with people currently reading the same thing you are. You can also connect to Littens by using hashtags for themed book posts. Liberty Hardy (@liberty), from Book Riot, posts a weekly #FunFridayPhoto post, whose theme has ranged from book that took the longest to read to books that you would give an alien who just arrived on the planet. There are #catsofLitsy and #dogsofLitsy posts to share cute pet photos and #raisingreaders posts to share pictures of your family enjoying books together.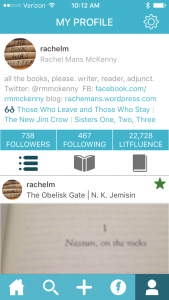 Litsy even has its own book clubs! Beyond the official Litsy Book Club (@litsybookclub), there is the Litsy Feminist Book Club (@litsyfeministbookclub—full disclosure, I'm one of the moderators). For those book clubs, each month Littens vote on a choice and discussions about the book take place on and off of Litsy. Litsy even connects book clubs by mail, called "Going Postal" Book Clubs. I joined one of those, and every six weeks I get a package with a surprise book inside and a notebook to write down my thoughts. Each rotation sends that book to a new place in the world, and the discussion builds in the notebooks sent along with the books. I've read everything from a nonfiction book about Victorian murders to Angela's Ashes to poetry this way.
Writers who have found success on Litsy (like Joe Hill) have one thing in common: they love to read. Just like with many social media platforms, authenticity is key on Litsy and overt self-promotion doesn't work. Instead, connect with your common interests and people will be more willing to give your books a try. Create a profile, create a few posts with images and blurbs, and start making friends! The community on Litsy is positive and deeply book-loving. I haven't found a place online which mirrors the experience of eternally walking around in a bookstore like Litsy does. I've added more books to my to-be-read list over the past year than ever before, but I've also checked off more of them because it's more fun to read when you can share the experience with others.
—
Rachel
Mans
McKenny
is an author of women's fiction and essays. You can find her work in publications as various as
Mothers Always Write
,
The Chronicle of Higher Education
, and
US Catholic
, as well as numerous literary magazines. Follow her
blog
or connect on Twitter (@rmmckenny) and Litsy (@rachelm).
Category: Contemporary Women Writers