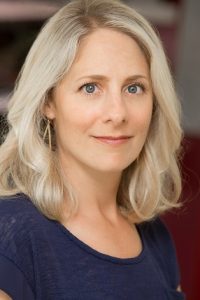 A little over four years ago, I approached my husband with an idea. It was the spring before my youngest daughter would be heading off to kindergarten and rather than following through with our plan for me to return to teaching full-time, I announced I wanted a year to try writing a novel. My husband didn't flinch. "Okay," he said, nodding and hiding the concerns he must have felt over the worrying state of our household finances. "Yes, we will make it work." I'd expected him to suggest a compromise of a part-time teaching job or at least to ask me what I knew about writing a novel (all reasonable points). Instead I had his full support and it scared the hell out of me.
What did I know about writing a novel? Nothing. My career in journalism and teaching high school English and history had given me a helpful skillset, but I still had a lot to learn. The good news? I knew what I wanted to write about: Louisa May Alcott and her younger sister, May, two women who had interested me since my childhood when I first toured Orchard House, the Alcott family home-turned-museum in Concord, Massachusetts. The bad news? Doubt set in quickly. Would I drown in research? Could I craft a plot? Create convincing characters?
After a few months of working on my new project, I had a more pressing concern: writing is a pain in the ass. Literally. My back, my butt—everything hurt when I sat in a chair for more than a couple of hours and writing a novel was going to take a while. No matter how many short breaks I took to rise from my desk and do yoga poses or walk around, I still ached after long stretches of writing. Anxiety exacerbated the situation. I needed a fitness program to prepare me for long stretches of writing. That's right, I needed training to sit.
I've always been an athlete. Running, skiing, tennis. These activities pushed me, gave my days discipline, and kept me goal-oriented, so the idea of working out without a race, tournament, or some other competition felt strange at first, but my finish line became finishing the book. I joined a gym with a focus on improving core strength. It helped. My confidence, energy, aches and pains—everything got better. And the best part? All the sitting paid off: I finished my novel, The Other Alcott.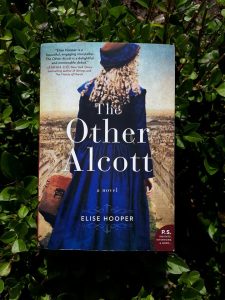 Most people know Louisa May Alcott for her classic, Little Women, in which she created a semi-fictionalized version of her girlhood. She portrayed herself as tomboyish Jo March, and May, her youngest sister in real-life, became precocious Amy March. But a lesser-known fact about these two women is that they were athletes. May rode horses and boasted in a letter about demonstrating her "Harvard stroke" while rowing. Louisa loved running and wrote in her diary, "I did my twenty miles in five hours and went to a party in the evening."
In the 1850s, there were no running shoes, performance fabrics, and Fitbits. She simply headed out her kitchen door, lifted her skirts, and took off. Think about it: she ran in layers of muslin petticoats, a silk dress, kid leather boots, and hair that hung down to her waist. Even if her hair was pulled up, it must have been heavy. Hers wasn't exactly the look you find today on a Nike billboard.
Louisa believed in what she described as "a strong body to support a lively brain." And what lively brains these sisters possessed! They were both discouraged from any ambitions beyond marrying well; Louisa was urged to give up writing and May was barred from many art schools on account of her sex. Nevertheless, the Alcott sisters persisted. Louisa became one of the bestselling authors in America during the 1870s. And after decades of rigorous study, two of May's paintings were exhibited in the prestigious Paris Salon.
In September, I'll be flying to Boston to begin my book tour. Aside from the usual book signings and author talks, I'll commemorate a time when a couple of sisters dared to defy their era's norms, both physically and mentally, by running in the 12th Annual Benefit 5K/10K for Louisa May Alcott's Orchard House. For me, this race isn't about setting personal records. It's a celebration of strong bodies and lively brains. And once I've crossed the finish line in Concord, there's new project waiting for me: I need to research tread desks.
—
Although a New Englander by birth (and at heart), Elise Hooper lives with her husband and two young daughters in Seattle, where she teaches history and literature.
http://www.elisehooper.com
@elisehooper on Twitter and Instagram
https://www.facebook.com/elisehooperauthor/
About THE OTHER ALCOTT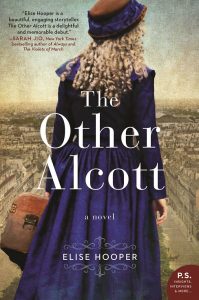 Named one of POPSUGAR's 25 Books to Read This Fall!
Elise Hooper's debut novel conjures the fascinating, untold story of May Alcott—Louisa's youngest sister and an artist in her own right.
We all know the story of the March sisters, heroines of Louisa May Alcott's Little Women. But while everyone cheers on Jo March, based on Louisa herself, Amy March is often the least favorite sister. Now, it's time to learn the truth about the real "Amy", Louisa's sister, May.
Stylish, outgoing, creative, May Alcott grows up longing to experience the wide world beyond Concord, Massachusetts. While her sister Louisa crafts stories, May herself is a talented and dedicated artist, taking lessons in Boston, turning down a marriage proposal from a well-off suitor, and facing scorn for entering what is very much a man's profession.
Life for the Alcott family has never been easy, so when Louisa's Little Women is published, its success eases the financial burdens they'd faced for so many years. Everyone agrees the novel is charming, but May is struck to the core by the portrayal of selfish, spoiled "Amy March." Is this what her beloved sister really thinks of her?
So May embarks on a quest to discover her own true identity, as an artist and a woman. From Boston to Rome, London, and Paris, this brave, talented, and determined woman forges an amazing life of her own, making her so much more than merely "The Other Alcott."
"Elise Hooper's thoroughly modern debut gives a fresh take on one of literature's most beloved families. To read this book is to understand why the women behind Little Women continue to cast a long shadow on our imaginations and dreams. Hooper is a writer to watch!"—Elisabeth Egan, author of A Window Opens
BUY THE BOOK HERE
Category: Contemporary Women Writers, How To and Tips