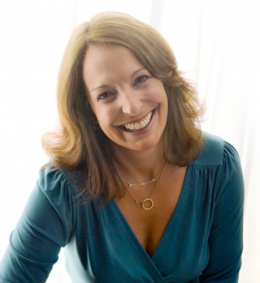 What is it that makes a sentence beautiful? Why does a phrase stay with us, make us pause, make us smile, make us feel?
As writers, we're in the business of words. According to our unique voices, we choose the exact right words in the exact right order. We evaluate, test, and try out words for the feel and the sound of each. We weigh the effect and the underlying meanings of the words and how they're strung together, and when we've done it well, we know it. I've even cheered aloud after nailing a particular phrase or I've marveled when, during a revision, I realized that it was me who had crafted a particular sentence that I loved.
It's magical to write an exquisite sentence, and there is a special joy in reading — and rereading — one.
So what makes a sentence beautiful? Certainly, this is largely subjective and sentences strike people differently, however, those shared and tallied highlights in digital books indicate that some sentences are more universally touching. There are qualities, definable or not, that make a sentence powerful or elegant or worthy of slowing to read it again.
To me, a beautiful sentence can be simple, its beauty lying in the life-truth it reveals, the way it makes me contemplate or appreciate something in life in a new way. A gorgeous sentence may be complex or alluring within the context of the story, losing some of its appeal when it stands alone.
A pleasing sentence offers a poignant image in the readers mind; it stirs emotions, draws connections we hadn't thought of, triggers a raised eyebrow. Unexpected metaphors, startling juxtapositions, creative descriptors can be what makes a sentence special. It's an incredible thing: the ability for certain words, in a specific order, to make someone see or feel something.
As writers, we take the time to ponder and evaluate and select the word that really fits, that truly says what we want it to say. Like sculptors manipulate clay and carve stone, a writer's medium is words. We mold and change shapes, structures, appearances; we experiment and reshape and rearrange words into sentences into paragraphs into stories. Along the way, we strive to put one good sentence in front of another, and hope to create some stunning sentences along the way.
What makes you underline or jot down a sentence?
Here are a few sentences that struck me for various reasons – share your favorites from your own work or others.
"She is rich in pauses, which she savors in her mouth."
– Margaret Atwood, The Handmaid's Tale
"He wanted to twine himself in the tiny curlicues of her handwriting."
– Celeste Ng Little Fires Everywhere
"I had seen the very start of someone. I've been with that baby before anyone or anything in this world had a chance to disappoint him."
– Jodi Picoult Small Great Things
"But staying in the moment has its price. You're sewing the days and years together and when there's no plan, you drop stitches here and there."
– Adriana Trigiani  All the Stars in the Heavens
"When you lose someone, they take a bigger place in your heart, not a smaller one."
– Adriana Trigiani – The Shoemaker's Wife
"Life is not about what you get, but what is taken from you. It's in the things we lose that we discover what we most treasure."
– Adriana Trigiani – The Shoemaker's Wife
—
Leah DeCesare is the author of the nonfiction parenting series Naked Parenting, based on her work as a doula, early parenting educator, and mom of three. Her articles on parenting have been featured in The Huffington Post, the International Doula, and The Key, among others. In 2008, she co-founded the nonprofit Doulas of Rhode Island, and in 2013 she spearheaded the Campaign for Hope to build the Kampala Children's Centre for Hope and Wellness in Uganda. In a past life, DeCesare worked in public relations and event planning. She now writes, teaches, and volunteers in Rhode Island, where she lives with her family and talking cockatiel.
Connect with Leah:
Website
Twitter
Facebook
Goodreads
Amazon
About Forks, Knives, and Spoons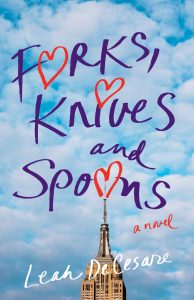 There are three kinds of guys: forks, knives, and spoons. That is the final lesson that Amy York's father sends her off to college with, never suspecting just how far his daughter will take it. Clinging to the Utensil Classification System as her guide, Amy tries to convince her skeptical roommate, Veronica Warren, of its usefulness as they navigate the heartbreaks and soul mates of college and beyond.
Beginning in 1988, their freshman year at Syracuse University, Amy and Veronica meet an assortment of guys —from slotted spoons and shrimp forks to butter knives and sporks—all while trying to learn if the UCS holds true. On the quest to find their perfect steak knives, they learn to believe in themselves—and not to settle in love or life.
Amazon
Barnes & Noble
Book-a-Million
Category: Contemporary Women Writers, On Writing