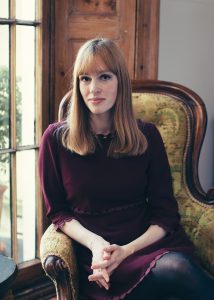 Working as a journalist is more than a job: if you do it long enough, it becomes a state of mind. True to the cliché, you suspect everyone does have a story to tell.  And with each story you hear, real life appears more outlandish than the most melodramatic plot.  Most of all, when you work in TV news, you end up constantly looking for 'the other side', the opposite view, the contrary voice.  Once you start down that road it's hard to stop.  Everything is there to be questioned.
All these habits of mind come in handy when you write fiction, but there's also one very obvious rule you have to break.  Sticking to the facts.  'Making things up' is a skill that lands reporters in court, but is a novelist's entire job description.  In my book 'The Binding Song' the prison HMP Halvergate is a Gothic horror of a place, but it was built out of many interviews with real prison officers and staff.  Conjuring the prison up out of the Norfolk marshes, it was both liberating and alarming to go my own way and ditch some of that hard won research.  I think this is a problem most writers encounter and I learnt to put the story first, but as a journalist I still found it almost sacrilegious to let so many facts fall by the margins.  In my mind an Ofcom complaint was always hovering in the background.
A more helpful crossover was getting in the head of my main character, the psychologist Dr Janet Palmer, who spends her days interviewing some very strange people, without making her feelings known.  Janet is responsible for running the treatment and assessment programme for some of Halvergate's most dangerous men.  Newly arrived in Norfolk, she finds both her predecessor and his notes have gone missing.  She has to piece together the truth behind the tales of a vengeful female figure driving inmates to their deaths, relying on the unreliable evidence of the men she works with.  As a journalist my own investigations are considerably less fraught, but there was enough familiar here for me to imagine her world.  The need to remain impartial, listening, before making judgements about where the truth might lie in the gaps between what people tell you.
Sticking to the familiar meant it was almost inevitable that I found myself writing in the thriller/crime genre.  I've spent many years covering the criminal justice system, from reporting from the scene when a crime has just been committed to sitting in on trials and convictions.  But the aspect that always affects me most is speaking to victims.  As a regional journalist you return to crimes years – sometimes even decades – after the fact, to interview survivors and family members still hoping for a suspect to be found.  It's impossible either as a reporter or a novelist to do justice to the anguish that reverberates, undiminished, through peoples lives, but in 'The Binding Song' I have tried to paint a picture of what that can look like.
In order to do that I trespassed as far from my beat as a reporter as it was possible for me to go, into the supernatural.  Or if not into the truly supernatural, at least into that strange twilight land where the mind plays tricks on you, and leads you to question what might be real.  The figure who haunts the men at Halvergate is full of rage, and it's no coincidence that she's female.  The white visitor, as the inmates call her, is the way I have tried to make sense of the grief and anger that follows violent crime when justice has not, and maybe can never, be done.
—
About THE BINDING SONG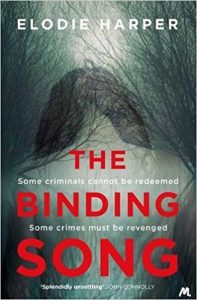 A chilling debut for fans of Mo Hayder and Sharon Bolton, THE BINDING SONG takes you on a trip to Halvergate Prison. If you're lucky, you'll get to leave…

'Splendidly unsettling' John Connolly

Dr Janet Palmer is the new lead psychologist at HMP Halvergate in a remote, bleak area of Norfolk. At first, she was excited by the promotion. Then she starts to see how many secrets are hiding behind the high walls.
A string of inmates have committed suicide, leaving no reasons why, and her predecessor has disappeared – along with his notes. The staff are hostile, the threat of violence is ever-present, and there are rumours of an eyeless woman stalking the corridors, punishing the inmates for their sins.
Janet is determined to find out what is really going on. But the longer she stays and the deeper she digs, the more uncertain she feels.
Halvergate is haunted by something. But it may be a terror worse than ghosts…
—
Elodie Harper is a journalist and prizewinning short story writer.  Her story 'Wild Swimming' won the 2016 Bazaar of Bad Dreams short story competition run by the Guardian and Hodder and Stoughton and judged by Stephen King.  She is currently a reporter at ITV News Anglia, and her debut novel The Binding Song is set in Norfolk, where the ITV Anglia studios are based.
Follow her on Twitter @ElodieITV
Category: Contemporary Women Writers, How To and Tips