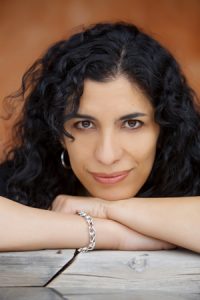 When I think about the authors who have influenced me, I have to go back in time—to my early teens—when I started reading gothic novels from authors like Daphne du Maurier and Charlotte Brontë. I loved the idea of a heroine coming to the house of a family she didn't know and finding out all of their secrets—especially if those secrets pertained her. Even better if there was mistaken identity involved! Not surprisingly, my favorite Daphne Du Maurier novel is The Scapegoat.
Around the same time, I read Jacqueline Susann's Valley of the Dolls and was fascinated with the idea of three narrators telling one story that overlapped, yet offered different perspectives. I couldn't believe such a thing was possible! Of course, this technique is widely used nowadays and I later saw it in novels from Whitney Otto, Amy Tan and Jodi Picoult, to name a few.
Growing up in Ecuador, I read a lot of Iberian and Latin American authors. Spanish is a language that lends itself to long and intricate sentences (Gabriel García Márquez is well-known for this as well as his hyperbolic descriptions, while Mario Vargas Llosa is the king of run-on sentences, but they both made this stylistic choices work for them).
When I started writing in English, I realized that I couldn't think as a Spanish speaker anymore because English is a direct language and long-winded sentences can be confusing to the reader. So, I forced myself to cut my sentences in fragments, to use short phrases here and there, and occasionally start a sentence with "but" (a nearly-sinful practice in Spanish). What I took from Latin American authors, such as García Márquez and Laura Esquivel, was their passion for convoluted family stories and unrequited loves.
In college, while taking a creative writing class, I became obsessed with stories that had unexpected plot twists. In fact, I became well-known in my class for always ending my short stories with a surprising conclusion. It was to be expected that years later, I would discover 40s crime novelist Cornell Woolrich and would devour his novels. Woolrich wrote under different pen names and had a gift for mystery—Alfred Hitchcock used his stories as the blueprint of some of his films.
I loved the way Woolrich depicted a character's state of mind through a setting's description. For example, a view that once had seemed spectacular to a character might turn sinister under different circumstances. I've always wondered how, with such a prolific career, he's so underrated. More recently, I fell in love with Carlos Ruiz Zafón's work. This Spanish author has a talent for multilayered plots, complex characters, dark pasts, and twists and turns every few chapters. I'm also very drawn to his settings (I love the mid-twentieth century). From him, I learned that there is an audience for more obscure settings; places and times not commonly depicted in mainstream American and English literature. His work encouraged me to set my novel in my native country.
At this point, I should explain that my initial vocation was to be a commercial artist (I have a degree in fine arts and started painting in my early teens) so it was unavoidable that visual media would influence my writing. I often play out scenes in my mind as if watching a movie. As a result, I write in a somewhat cinematic fashion. I favor scenes rather than long passages of narration (although this is sometimes necessary for character development).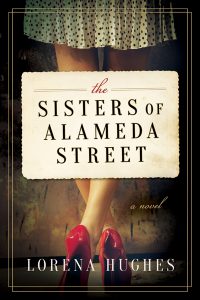 Both film and television have influenced my writing as well. I once watched a Mexican black-and-white film about a mother who accidentally lost her daughter on a train and found her years later, along with two other girls, but she didn't know which one of them was her daughter. I started thinking: "What if instead of a mother searching for her daughter, it is the daughter who's trying to find her mother?" From there, my novel's concept was born.
Other films that have influenced The Sisters of Alameda Street are The Joy Luck Club and Cinema Paradiso; the latter for its charming depiction of a quaint small town during the mid-twentieth century, and the former as a story about four women with difficult pasts that are told in bits and pieces, and finally come together at the end. I use a similar design in my own novel.
Like a flavorful dish with a dash of this and a sprinkle of that, my work has been molded through diverse influences. Some have come from my Latin roots—be it through mass culture fiction and/or Spanish literary giants—but I can't deny the influence of English-speaking novelists as well. Whether I got my inspiration from thrillers like Cornell Woolrich's I Married a Dead Man or an ethnic saga like Amy Tan's The Joy Luck Club, the idea of women having the courage to confront the unknown to pursue happiness has become almost a motto in my plotlines.
—
Lorena Hughes was born and raised in Ecuador until moving to the United States at eighteen. She has a degree in fine arts and mass communication & journalism from The University of New Mexico. Her previous work has won first place at the 2011 Southwest Writers International Contest in the historical fiction category, earned an honorable mention at the 2012 Soul-Making Keats Literary Competition, and placed quarter-finalist in the 2014 Amazon Breakout Novel Award. Her articles have appeared in What's Up weekly and The Writing Sisterhood blog.
For more information, visit her website: www.lorena-hughes.com
Twitter: @SisterLorena
—
About THE SISTERS OF ALAMEDA STREET
When Malena's tidy, carefully planned world collapses with her father's mysterious suicide, she finds a letter, signed with an "A," which reveals that her mother is very much alive in San Isidro—a quaint town tucked in the Andes Mountains. Intent on meeting her, Malena arrives at Alameda Street and meets four unconventional women who couldn't be more different from one another, but who share one thing in common: all of their names begin with an A.
To avoid a scandal, Malena assumes another woman's identity and enters their home to discover the truth. Could her mother be Amanda, the iconoclastic widow who opens the first tango nightclub in a conservative town? Ana, the ideal housewife with a less-than-ideal past? Abigail, the sickly sister in love with a forbidden man? Or Alejandra, the artistic introvert scarred by her cousin's murder? But living a lie will bring Malena additional problems, such as falling for the wrong man and loving a family she may lose when they learn of her deceit. Worse, her arrival threatens to expose long-buried secrets and a truth that may wreck her life forever.
Set in 1960s Ecuador, The Sisters of Alameda Street is a sweeping story of how one woman's search for the truth of her identity forces a family to confront their own past.
Category: Contemporary Women Writers, How To and Tips