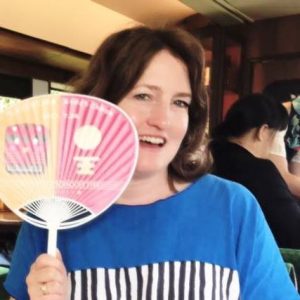 My novel The Mermaids of Lake Michigan was published earlier this year, but I completed the first draft of it almost twenty years ago. When it was finished, I printed out sample chapters, typed up cover letters, and began querying literary agents via airmail. I still have some of their replies, typed up back then on cream vellum stationery, with agency letterheads, signed in ink. Two agents at top agencies declined to represent my book, but invited me to send something else.
Another, who represented one of my favorite authors, replied that she'd had a hard time deciding, but she ultimately decided to pass. All of these agents, along with a handful of editors at small presses to whom I'd submitted the book, explained their reasons for rejecting the book, and offered suggestions for improvement.
Nevertheless, I grew dejected. I didn't know quite how to fix it, so I stuffed the manuscript into a drawer and wrote another novel about an all-girl punk rock band in South Carolina.
I eventually found an agent for that second novel (later, much later, published as Screaming Divas) but she didn't even want to look at my earlier manuscript about a girl with an affinity for mermaids growing up on the shores of Lake Michigan. It didn't sound commercial enough, she wrote.
Even so, every couple of years I would take the manuscript out of the drawer and tinker with it. I worked on the dialogue. I fleshed out the characters. I added scenes, and deleted forty pages. After developing a fascination with female wreck divers on the Great Lakes during the early 20th century, I worked one into my story. I felt that the novel was getting better and better, but I worried that it might be too dated. When I had first started it, in my twenties, the story was more or less contemporary, but now, it was historical. No one had a black rotary telephone anymore.
In the meantime, I wrote and published other books – three anthologies, including a collection of essays on mothering across cultures, three novels, a picture book, and a collection of short stories about expatriates in Japan.
In recent years, I began to notice that stories set in the 1970s and 80s were popping up. Some of them had been written by people who hadn't even been born back then. Perhaps it was worth giving my story one more shot at publication. In order to test the novel's viability, I entered it into a contest for young adult fiction.
The contest was sponsored by a publisher in Chicago, where part of the story takes place. My protagonist was a teenager. Maybe I had a chance? To my utter amazement, The Mermaids of Lake Michigan was one of three finalists. According to the judges' and editor's comments, however, the story wasn't quite right for the young adult market. It seemed more like a coming-of-age novel for adults.
I revised the book again with this feedback in mind. It occurred to me that Wyatt-Mackenzie, the publisher of my anthology on mothering across cultures and my short story collection, had begun publishing novels with similar themes – magical realism, time travel, the biography of a 1970s TV star. On something of a whim, I submitted it to Nancy Cleary at Wyatt-Mackenzie Publishing. She responded to the book just as I hoped she would, and made an offer to my agent.
In hindsight, perhaps I should have persevered early on. Years later, when I was again in search of a literary agent and/or publisher, I realized that those first agents and editors to read and reject my manuscript had truly meant to encourage me. More recently, many responded to my queries with terse messages – "I'm sorry, but I didn't feel as passionate about this as I would need to be to represent you" or "This isn't quite right for us at this time."
The replies were no longer typed on vellum stationery and mailed halfway around the world to me, but dashed off on computers and sent as email. Sometimes there was no reply at all. Then again, maybe it just wasn't the right time for that book. The publisher who finally brought it into print with such loving care wasn't even in business when I first submitted the novel.
I'm happy to say that my little book, now finally out in the world, has been well-received. It has already won a couple of awards in the United States, and has been nominated for another in Japan. A trade reviewer suggested that it might appeal to fans of Kazuo Ishiguro! And one reviewer on Amazon wrote "I think this is my favorite of Kamata's books."
What I have learned from all of this is that timing is important, persistence is key, and that constructive criticism from agents and editors should be carefully considered. Contrary to what many of us think at the darkest times, editors and agents are not "gatekeepers" trying to prevent us from publishing. Even when the answer is "no," often they are rooting for us, hoping that we don't give up, trying to help us succeed.
—
Suzanne Kamata was born and raised in Grand Haven, Michigan. She is most recently from Lexington, South Carolina, and now lives in Tokushima Prefecture, Japan with her husband and two children.
Her short stories, essays, articles and book reviews have appeared in over 100 publications including Real Simple, Brain, Child, Cicada, and The Japan Times. Her work has been nominated for the Pushcart Prize five times, and received a Special Mention in 2006. She is also a two-time winner of the All Nippon Airways/​Wingspan Fiction Contest, winner of the Paris Book Festival, and winner of a SCBWI Magazine Merit Award
Follow her on Twitter https://twitter.com/shikokusue
Find out more about her on her website http://www.suzannekamata.com/
About THE MERMAIDS OF LAKE MICHIGAN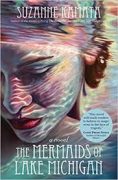 Elise Faulkner is more at home in the waters of her beloved Lake Michigan than on land where her beauty queen mom is always on her back about her lack of a social life; her sister is dating the boy of her dreams; her favorite penpal–the one who wrote about mermaids in Ghana–has gotten married and ended their correspondence; and no one's allowed to talk about her glamorous great-grandmother, the deep-sea wreck diver. Elise is biding her time with books until she can flee. But then crazy Chiara Hanover pops into her life, as does Miguel, a mysterious carnival worker whose dark future has been predicted by a gypsy.
Category: Contemporary Women Writers, How To and Tips