Qaisra Shahraz, born in Pakistan, is a critically acclaimed novelist and scriptwriter and has lived in Manchester since she was nine.  Her books have been published in numerous countries and translated into various languages. We asked her if she could tell us about her latest research for her novel based in Morocco.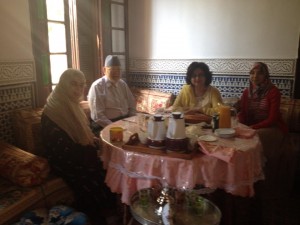 Apart from journalism, research played little part in my writing life. Many of my short stories, featured in a collection, 'A Pair of Jeans & Other Stories' and novels, The Holy woman, Typhoon and Revolt were set primarily in England and Pakistan. However, over the years, with much travelling around the world, the settings of my fiction have become more international.
Stories in my new collection, The Train to Krakow about the holocaust, is set in Poland. The setting of The Slave catcher, is 19th century Boston about the slave trade. The White Angel, focuses on the lives of migrants in Abu Dhabi and Kabul. Whilst life in Mughal court in 16th century India is depicted in The Courtesan. For all these stories I had to do a lot of research, including speaking with Afghan students of mine and with Jewish friends about the holocaust.
Writing the latest novel, set in Morocco and Paris, has both been a challenging and an enjoyable process. My research first began in Paris in March by a visit to the Arab quarter with its Tunisian sweet shops. In May, I headed down to the continent of Africa, to Morocco – with the aim of totally immersing myself in Moroccan life and culture.
I love Morocco and had previously toured it as a writer, giving readings and lectures at the universities in Rabat and Casablanca. I made many friends and was very lucky to be connected with two Moroccan families who very kindly offered to host me and help me with my research .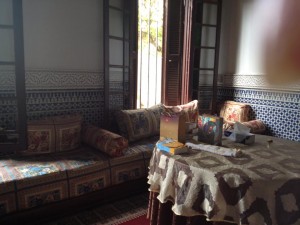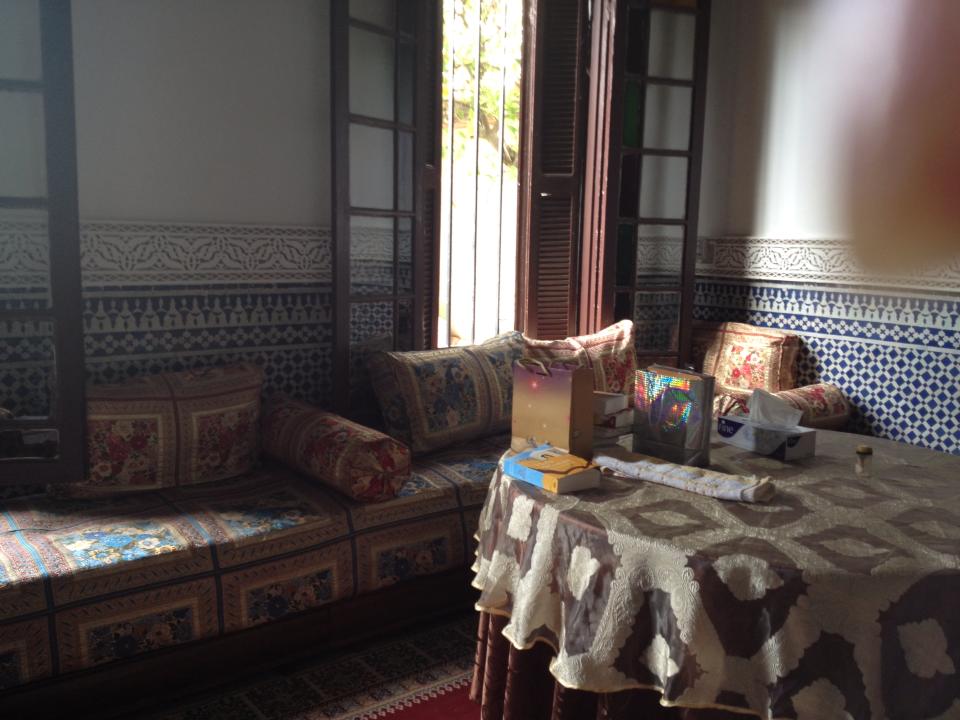 After sampling the exciting nightlife of the Alfina Square of Marrakech, I headed up north to my host families in Khemmist and Fes. They were wonderful and took me everywhere:  from the huge Hammam baths, the village cemetery and visiting the famous 8th century University of Qarawiyyin,  founded by a woman, Fatima Muhammad Al-Fihri in Fes.
I had the opportunity to visit a real farm where I learnt about village customs, bee keeping and carpet weaving. I happily scribbled away notes in my special, expensive brown book brought from Piccadilly Gardens in Manchester.
Even the grandmother of my main host, Nada, actively got involved with my research. It was  a pleasure to listen to her stories of her youth, of weaving woolen 'souf' rugs and funeral rites. There is a Moroccan village wedding in my novel. She happily described, through Nada, her granddaughter, acting as an interpreter, all the wedding rituals; about what food was served and by whom. It was lovely to hear about the lively arrival of the groom's entourage, singing and dancing and bearing many gifts, of dates and clothes, to the bride's home.
In particular, I was delighted to hear about the important role of the Negaffas, the bride attendants, as one of my main heroines, Imane, is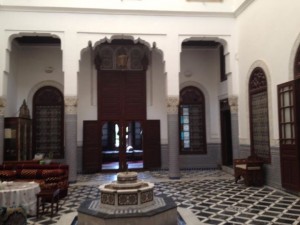 supposed to be a Negaffa. Who are they? I asked. Well – they are a group of women, led by the head Negaffa, who cater to a bride's every need from the buying of bridal outfits, Kaftans and Takshitas in different colours and jewellery for the bride; to actually staying with her for a few days, to enable her to settle in her new home.
My wonderful host, Dr. Zohor, a scholar took me to the wedding section of the market, souk in Fes, where I met some real Negaffas, and saw 'bridal' items. The traditional wedding palanquins, used to carry the brides especially caught my eye.
On my last day, on the train, I was in for a treat. I sat in front of a jolly elderly woman, whose infectious laughter had us all in splits! I knew there and then that this lady called Khadija, larger than life would enter my novel. I scribbled notes about her clothes and appearance and asked her permission to take a photo. She very happily nodded posed with my brown book in which she had just entered. You will meet her in the 'village' chapters.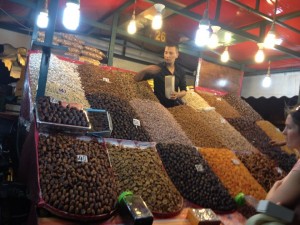 Now back at home what do I do with all the material that I have gathered?  So far an amazing transformation is taking place. The shape and content of my novel has changed. However the research also posed more problems for my plot than I had anticipated.
For instance, what I saw of Moroccan life bore little resemblance to what I had envisaged or put in my 'village' chapters. I had imagined tight lanes, with village houses very close together.  However I discovered that sometimes village houses or farms are separated by almost an acre of a land. There is a lot of space in the Moroccan countryside, with people actively engaged in farming.
In between my college inspections, the hard process of rewriting has now begun: the grafting of new ideas, Moroccan terms and information, the jig sawing and inserting of new scenes into the text based on my research. Chapter 1 – about Hind's mother's funeral did not exist; it came out of my visit. The characters, their dynamics and importance in the novel have also drastically changed. Two characters, Hind and Turaya have started to take over, both demanding and playing a far bigger role in the novel. I can't wait for my readers to find out about the relationship between Hind and Turaya; women who have loathed each other.
Some of the settings have changed. Hind's home and much of the action is now going to be in Fez, set in the beautiful home of my wonderful host, Dr. Zohor Idriss. The hall I describe is the large inner courtyard of her home.
I am now faced with the arduous and the very daunting task of adding both color and flesh to the first draft – the skeleton of this novel, in order to bring the wonderful world of Morocco and its people to come alive and real… Can I do it…and successfully? As my previous novels set in Pakistan. Wait and see –and of course wish me luck!
……………………………………………………………………………………………………………………………….
'Writing Diaries' is Qaisra Shahraz's current blog on her webpage where you can follow her journey in writing this latest novel set in Morocco. Updates on her progress and perhaps even a sneak peak here or there of the actual manuscript when it's in a fit shape to be shared.
……………………………………………………………………………………………………………………………….
—
Find out more about Qaisra on her website www.qaisrashahraz.com  Follow Qaisra on twitter @Qaisrashahraz
Links to her  novels: Typhoon , The Holy Woman Revolt and A pair of Jeans
Category: By Current and Past Sponsors, Contemporary Women Writers, On Writing