Fifteen years ago Caroline moved with her husband and seven children and stepchildren to Burnt Norton, the house made famous by TS Eliot in the first of his ʻFour Quartets'.
Very much influenced by Eliot's theme of time and redemption, she started to research the strange and tragic history of the Keyt family who owned the estate until 1753 when it was bought by Sir Dudley Ryder, Lord Chief Justice, and ancestor of Caroline's husband the eighth Earl of Harrowby.
We asked her if she could tell us a bit more about the background on writing her novel.
To write a book you need to be tenacious, be prepared to work extremely hard, and be ready for numerous setbacks. Unfortunately, unless you are a celebrity it's quite a slog. The huge advances given to authors are a thing of the past, today the draft has to be finished and the advances are much smaller.
My agent assured me that a small advance was an advantage as it would be paid back quickly, and royalties would come streaming in. I'm still waiting!
First and foremost, to write a book you need to have a story. I found mine when we moved to Burnt Norton fifteen years ago: an old newspaper cutting hanging in the loo intrigued me. It told the story of a night in September 1741 when Sir William Keyt, owner of Norton House, set fire to his bed curtains and burnt himself to death in the house he had so recently completed.
I needed to find out more. First I contacted some of the Keyt descendents living in our area who were enormously helpful and you can imagine my delight when a direct descendent of Sir William sent me a family tree.  Through this  I was able to build a picture of my William Keyt, his wife Ann and each of his children. Afterwards I contacted the Gloucestershire County Council who found a coloured engraving of the house before the fire in their archives.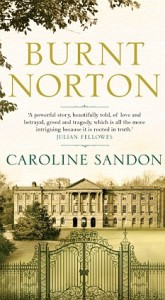 Another source of information turned out to be  the church. Gravestones and parish registers provided me with dates of baptism and death, they also gave me a snapshot into the past. I remember my excitement when a church window in Ebrington revealed that my husband was actually connected to the Keyt family by marriage.
Finally I needed to research Molly Johnson, Sir William Keyt's mistress. I found this information locally, many families had lived in Chipping Campden for centuries and though Molly Johnson is notorious for being the greedy mistress and the catalyst for Sir William's downfall, I finally believed her to be a victim of her age.
When a publisher accepted my book I thought it would be on the shelves a minute later. How wrong I was. From here it was more research. What did they eat in the eighteenth century, what dances were performed at an eighteenth century ball? The internet helped me and after googling eighteenth century baroque dance I was put in touch with a teacher in London who sent me all the relevant information. On Amazon I was able to find a cook book on eighteenth century cooking.
My book is  now finally on the shelves and it is a great feeling.  And the process has started all over again as I complete the research on my second book.
—
Caroline Sandon won her first national poetry competition at the age of ten, and from that moment dreamt of being a writer. Her life however took a different turn. At eighteen she began a law degree and only a year later got married. She left the law to become a model in the fashion industry and a few years later she gave up modeling to devote more time to her children and to become an interior designer. Fifteen years ago she moved with her husband and seven children and stepchildren to Burnt Norton. With the children growing up, Caroline had at last the time and the material to write her first novel, Burnt Norton.  Her second novel is due to be published next year.
Follow her on twitter @CarolineSandon
Gloucestershire, 1731. When his youngest son is killed in a tragic accident, Sir William Keyt, master of Norton House, busies himself in his fortune. The building of a second mansion in his grounds defies expense and denies mortality; an emblem of the Keyt name for generations to come. 1741 his beautiful new mansion becomes his funeral pyre.
'A powerful story, beautifully told, of love and betrayal, greed and tragedy, which is all the more intriguing because it is rooted in truth.' 
JULIAN FELLOWES, creator of Downton Abbey
Category: Being a Writer, By Current and Past Sponsors, Contemporary Women Writers, On Writing