Here's the story of how women's fiction author extraordinaire Taylor Jenkins Reid and agent Carly Watters started working together. (Haven't read her books? Try MAYBE IN ANOTHER LIFE, her most recent novel with a SLIDING DOORS twist.)
In Early February 2012 I receive a query telling me the heart-breaking love story of Elsie and Ben: a young widow who struggles to grieve the loss of her nine-day elopement and who must also forge a relationship with her new mother in law who never knew she existed.
I stop in my tracks because it sounds exactly like something I'd love to read not only as an agent, but also as a reader. It reminds me of the tearjerker P.S. I LOVE YOU.
And so I begin to worry other agents have requested it first. (I had the full manuscript five days after the initial query, which is fast.) I start to worry I'm reading too slowly. (Note: I'm reading as fast as I humanly can.) I'm worried she's signing with someone else at the exact moment I'm reading. (As you can see, I'm about to lose it.) This is what goes through an agent's head when they love a manuscript; it's hard to concentrate and enjoy the reading process because our wheels are turning too fast.
Once I begin to focus I find myself laughing and crying, but wishing this long-ish novel (90,000 words) is a bit tighter. I'm enamored with the plot, but feel the pacing needs a bit of work. This is the moment an agent always hesitates: do I offer representation and then start to work with them on the book?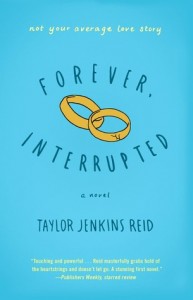 Or do I give them notes to revise, see how they do, and then offer representation? I firstly give Taylor the task of reading my long revise and resubmit letter (with an earnest plea at the bottom not to sign elsewhere) and secondly cutting 10,000 words. I want to know writers can edit themselves before I sign them.
Surprisingly, Taylor gets back to me in two weeks with a manuscript that is trimmed significantly, but most importantly I can see no seams and all the best parts are now shining brighter. Her edits are successful: it shows we had the same vision, she trusts me, and she not only has the skill of craft, but also is objective enough to edit.
I offer representation and we are working together within a month of her initial query letter. Taylor heard the polite thing to do was wait a week to accept even though she had already made up her mind. She emailed the three other agents to pass.
We polish the book through March 2012 and submit Elsie and Ben's story (also known as FOREVER, INTERRUPTED) in April. One month from submission I get a call from Atria Books editor and VP Greer Hendricks. One month isn't extremely long to be on submission by any means, but Greer is concerned she might have missed her window. (I've sold a book as quickly as a week, or as long as 6 months—there are no averages, really.)
Greer tells me she's not taking on many new authors right now due to her full list (like Jennifer Weiner), but her assistant Sarah read it first and ran into Greer's office announcing they had to have it. Greer loves Taylor's style and balance of structure and emotion, and wants to talk to her to see if they'd be a good fit.
Taylor and Greer have a phone conversation in late May and find they're on the same page—everyone is thrilled. (No surprise there: Taylor's super fun, easy to get along with, and talented to boot. She's a publishing unicorn.)
Knowing Atria is interested it is time to think about a potential two-book deal. Taylor pitches me a modern take on marital separation: a couple who can't figure out what went wrong in their marriage decide to take a year off from talking to each other in hopes of finding a way to fall in love again with one rule: absolutely no contact with each other. (Hint: this became AFTER I DO.)
Now we wait for the offer.
The following week, in early June, I'm in the Atria Books offices making the rounds as I do when I'm in NYC. When I come into Greer's office she's ready to make an in person two-book offer. Publishing no longer has a reputation of deals being done during long lunches in midtown. However, Greer and I revive the "old days" of publishing and revel in it while we chat about Taylor's offer and potential position at Atria in person.
After speaking with Taylor and negotiating with Greer we are ready to publish FOREVER, INTERRUPTED the following year, in July 2013.
FOREVER, INTERRUPTED has gone on to sell in 14 languages and be optioned for film with Dakota Johnson executive producing and starring. Taylor's sophomore novel AFTER I DO has been optioned for TV. Her third novel, MAYBE IN ANOTHER LIFE was released in July 2015. It's a SLIDING DOORS story of love and fate, and was featured in People, US Weekly, Cosmopolitan, Glamour, Redbook, Shape, USA Today and more.
Taylor and I have worked together for over three years and five book contracts. She's a mega talent and genuine person that I'm so proud to represent. Greer Hendricks left Atria in 2014 and Taylor's now with senior editor Sarah Cantin, who was Greer's former assistant and loved Taylor's writing since day one, and we're all excited to launch book four, ONE TRUE LOVES, in July 2016.
—
Carly Watters is a VP and Senior Literary Agent at the P.S. Literary Agency. She began her publishing career in London at the Darley Anderson Literary, TV and Film Agency. She has a BA in English Literature and an MA in Publishing Studies and has been faculty as numerous conferences around North America including Surrey International Writer's Conference, SCBWI San Francisco, Florida Writer's Conference and many more.
Since joining PSLA in 2010 and becoming a VP in 2014 Carly has had great success launching new authors domestically and abroad with acclaimed women's fiction author Taylor Jenkins Reid being published in 14 languages around the world. Her blog www.CarlyWatters.com has thrice been awarded the Writer's Digest distinction of '101 Best Blogs for Writers.' Carly is drawn to: emotional, well-paced fiction, with a great voice and characters that readers can get invested in; and platform-driven non-fiction. Follow her on Twitter: @carlywatters.
Category: Agents, Contemporary Women Writers, On Writing