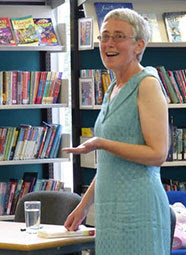 When I invited my blog followers to host a guest post to publicise my forthcoming novel, I never imagined I'd be embarking on a marathon tour of twenty-five posts over five weeks. I'm not sure if that makes me someone to emulate or a narcissistic masochist but, for what it's worth, here are some suggestions for blog tourists based upon what I learnt in the process of mine.
As with any book promotion strategy, do plan ahead. I posted my request for hosts three months in advance of publication, which would have given me ample time to prepare my posts if I hadn't been also working with my publisher on the final tweaks to my novel. So do give yourself time, not just to write the posts but to liaise with your hosts, respond to commenters and tweet the post when it's published. It's also polite to offer to reciprocate, hosting your hosts for a return visit (at some future time at their convenience) to your blog. I'd also hoped to introduce each of my hosts on my own blog on the day I visited them, but this would have been impossible if I also wanted to get to bed at night and a weekly summary had to suffice.
Do try to schedule a spread: I aimed for one post every weekday with a weekend break. But do be flexible: it did no harm to have two posts on publication day and a Sunday post in week five. It's all about making it as easy as you can for your hosts; they're the ones doing you a favour not the other way round.
Unless you're pitching a post to fit with a specific series (for example, Urszula Humienik's Monday Inspirations, Sacha Black's focus on character or Avril Joy's Writing Rooms), it's generally easier for your hosts if you propose the topic, although you can give them a choice, as I did with this menu that accompanied my original request. Do make each post unique but don't worry if there's some overlap between them; that's partly how you discover what your novel's about! Do try to match posts to hosts in a way that fits with the style and ethos of their blog (for example, I asked Lori Schafer to host my post on the autobiographical element because she's published a memoir, Julie Stock to host a piece on setting part of my novel in Cairo because she's particularly interested in exotic settings) but don't tie yourself in knots over it: part of the appeal of a guest post is bringing something different to the blog.
So make your content lively and engaging, perhaps working a little harder on your guest post than you might for a post on your own blog. Consider it a gift to your host rather than an obligation. Do choose subjects that connect with the book you're promoting but don't make it all about your book: the aim is to inform potential readers of your book's existence without alienating those of your host's followers who genuinely don't want to know. Better still, write a how-to-do-it post like this one or The shrinking violet's guide to promoting your novel generously hosted by Charli Mills. It can feel uncomfortable to put yourself forward as an expert, but readers are always free to disagree.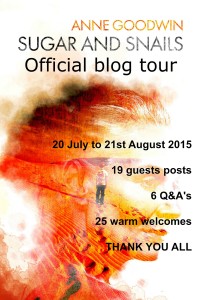 Do offer your hosts a range of images they can use to accompany your words but don't bombard them. Most will want an author photograph and PDF of your book cover, but bloggers differ in their use of images so let them call the shots. (I couldn't have sent my illustrated walking route to anyone but photo-blogger Geoff LePard.) Do consider creating a media page where hosts can select from a range of options, although I'm not sure mine was used to great deal.
Do take the same flexible approach to the blog tour button: some bloggers will proudly display one whereas others won't admit they're part of a tour. I think it's still worth creating one, however, as you can use it for tweets and on your own blog. I had five – one for each week of the tour – assembled by superimposing text on my cover image using PicMonkey, which is free to use. All you need is a list of dates, blog titles and addresses. But do take care to check it thoroughly before saving; make a mistake and you're back to square one.
A publicist, if you have one, will organise the tour for you, but I don't think I'd have been as happy with someone else at the wheel. However, an intermediary makes it easier to include reviews within the tour. Personally, I shied away from asking bloggers not only to read and review my novel but to post their review on a specific day.
Most of all, don't fret and do enjoy it! But, be warned! These things can become addictive.
If you've hosted a post, done the grand tour or watched from the sidelines, what do you think are the main elements of a successful blog tour?
—
Anne Goodwin writes fiction, short and long, and blogs about reading and writing, with a peppering of psychology. Her debut novel, Sugar and Snails, was published in July 2015 by Inspired Quill. Catch up on her website: annethology or on Twitter @Annecdotist.
Category: On Book Marketing