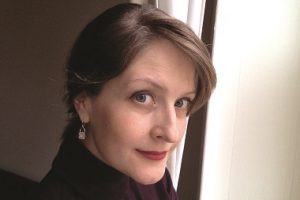 We writers are many things. Sometimes, our subjects make us into even more. When writing and promoting The Magician's Lie, which features a stage magician as its main character, I did a lot of thinking about the similarities between illusionists and novelists. And to write my new book Girl in Disguise, inspired by the life of the first female Pinkerton detective, I became a detective myself.
I first heard the name Kate Warne a few years ago, and like most people, I had no idea who she was. The first female Pinkerton detective, okay, but what else? When did she live, what did she do? I actually knew almost nothing beyond her name and the ground she'd broken when I proposed her to my editor as a subject for my next novel. But that was enough for a start – I was excited, my agent and editor were excited, and I was ready to dive in and find out more about Kate's story.
And what I found out amazed me. A basic internet search revealed tantalizing tidbits. This woman was such a pioneer. She was a female detective in the 1850s, when the very idea must have been shocking, especially considering that U.S. police departments didn't welcome female detectives for another 50 years. She became an operative by answering a newspaper ad, which hadn't specified that only men were welcome to apply for the position, and convinced Allan Pinkerton that what his agency really needed was a female operative, who could go places men couldn't go.
He hired her on the spot. Even in her early cases, she excelled in undercover work and deduction. Within a few years, she was so good at her job that she was promoted and assigned to run her own division. She helped save Abraham Lincoln's life as he made his way to his inauguration. She was an undercover spy for the Union during the Civil War. All this information was readily available; I was ready to find out more.
When I found out that the Pinkerton Agency archives were housed at the Library of Congress, it seemed like serendipity. I had just moved to Washington, DC. I quickly obtained a library card for the Library of Congress (with my picture; it was awesome) and familiarized myself with their protocols. The LOC, given the size of their collection, doesn't just let you wander the stacks. I was given an index of the agency's files and in return I gave the staff a list of the files I wanted to see. I'd imagined myself returning day after day, week after week, to get to the bottom of Kate Warne's career. That wasn't how it turned out at all.
I was a detective in the Library of Congress for only a day. I quickly exhausted everything the Pinkerton Agency archives could tell me about Kate. On only three cases was her name mentioned – the thwarted Lincoln assassination, the Adams Express case, and one case where she posed as a fortune teller to get more information on a woman suspected of attempting to poison her brother to get access to his fortune. That was pretty much it.
And so, I was like a detective whose interviews with the suspect came to a hasty conclusion. I needed to do what detectives do: interview the suspect's family members and associates, search for leads, get a sense of the person's motives and actions from the environment around her instead of the person herself. With Kate, this took the form of reading Allan Pinkerton's books, for starters.
Where she was tight-lipped, Pinkerton was garrulous – whatever the man's faults, he was a relentless and skilled self-promoter, and his books on the subject of his and his agency's achievements provided almost too much information. I took most of his facts with a grain of salt, but he helped provide a great deal of color I could use to paint the world around Kate in detail.
I also read modern writers whose research was more reliable. I read Daniel Stashower's 2014 book on the Baltimore Plot, The Hour of Peril, which named Kate along with several other Pinkerton agents as key to foiling the plot to kill Lincoln, and specified their roles in the operation. These were facts I could trust. Karen Abbott's nonfiction opus Liar Temptress Soldier Spy, which focused on the stories of real-life female Civil War-era spies like Rose Greenhow.
Yet these accounts, too, I treated like interviews of wary, tight-lipped witnesses. I wanted to spin a story that was satisfying for the reader, and that meant sometimes departing from the historical record to build my characters. As a detective wouldn't treat testimony as gospel, neither did I, not where my Kate's story was concerned.
And I do think of the Kate Warne in this novel as my Kate. (I'm very possessive.) Other books and articles have taken the same facts I found and turned them into other stories. Pinkerton says she was a widow when he hired her, but was she? I say yes, but someone else's version of Kate says no, she only claimed to be a widow because that lent her greater respect and credibility. Was she having an affair with Allan Pinkerton? Someone else's novel says yes, and you'll have to read mine to find out whether I agree.
In this way, too, writers are detectives. We find things out, but the things aren't the end of it. We have to figure out how to make the facts fit a narrative. We have to make sense of things that don't necessarily make sense. We stitch together the might-have, the maybe, the what-if. That's what I've done to create Girl in Disguise. And on my first-ever case, the case of Kate Warne, I'm pretty happy with the way it's worked out.
—
Raised in the Midwest, Greer Macallister is a poet, short story writer, playwright and novelist who earned her MFA in Creative Writing from American University. Her debut novel THE MAGICIAN'S LIE was a USA Today bestseller, an Indie Next pick, and a Target Book Club selection. It has been optioned for film by Jessica Chastain's Freckle Films. Her new novel GIRL IN DISGUISE, about America's first female private detective, was an Indie Next pick for April 2017 and received a starred review from Publishers Weekly.
Follow her on Twitter @theladygreer
Find out more about her on her website: http://www.greermacallister.com/
About GIRL IN DISGUISE
 A new novel from the USA Today Bestselling author of The Magician's Lie 
"Electrifying…a rollicking nineteenth-century thrill ride."  ―Amy Stewart, New York Times bestselling author of Girl Waits with Gun
Inspired by the real story of investigator Kate Warne, this spirited novel follows the detective's rise during one of the nation's times of crisis, bringing to life a fiercely independent woman whose forgotten triumphs helped sway the fate of the country.
With no money and no husband, Kate Warne finds herself with few choices. The streets of 1856 Chicago offer a desperate widow mostly trouble and ruin―unless that widow has a knack for manipulation and an unusually quick mind. In a bold move that no other woman has tried, Kate convinces the legendary Allan Pinkerton to hire her as a detective.
Battling criminals and coworkers alike, Kate immerses herself in the dangerous life of an operative, winning the right to tackle some of the agency's toughest investigations. But is the woman she's becoming―capable of any and all lies, swapping identities like dresses―the true Kate? Or has the real disguise been the good girl she always thought she was?
Category: Contemporary Women Writers, On Writing