I inherited my need to create from my mother.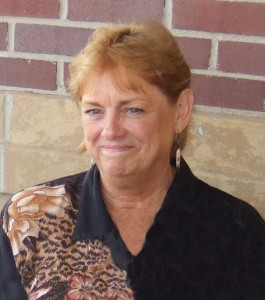 During the 1950's she wasn't content to sit quietly crocheting doilies or knitting sweaters; she Tolle-painted our TV trays and flocked our Christmas tree pink.
As a teenager in the late sixties I played and wrote desperate love songs on my twenty-five dollar guitar and when that broke, I expressed my angst through poetry.
Years later, married and a new mother, I was thrilled when my own mother invited me to join her in exploring a variety of the popular creative outlets of the times with her.  
I was introduced to a whole new world of creativity, making ceramics and macramé and the likes, and I loved it.  I did not feel lonely, creating this kind of art, as I had pouring my heart out in words.  I was happy with my life and had no need for angst-ridden poetry.
I also began writing again when my daughter was born as a way to communicate my heart to her… words of love that I hoped she would read one day and feel the palpable emotion I felt looking at her in her crib; how much she meant in my life.  I continued occasionally writing small pieces throughout the years as ways to commemorate events, both happy and sad.   When my best friend asked if I'd let her have some of them, I made her a book of them for her birthday. Two years ago, when she passed from cancer, her brother mailed the book back to me with a note that said he knew they were from me and he knew she had treasured them.
In the mid-nineties the craving to create returned.  I had a job at a university where the professors I worked with spent 4-5 months of the year doing field research.  I had absolutely nothing to do and began writing little stories to fill the time.  With so much spare time on my hands, I began writing a mystery novel, which I did over a period of about 6 months.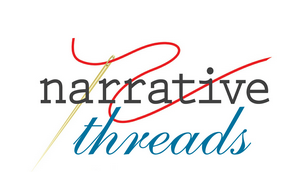 I submitted that book to about 5 publishers, and obviously didn't get an acceptance.  But that didn't really matter.  I had thoroughly enjoyed writing the book – and knowing that I had actually completed it was somehow enough.  The writing had kept my mind occupied and excited, developing characters and creating twists and turns in the plot.  It wasn't a good mystery, by any stretch of the imagination, but it had served its purposed and I was pleased that I could say that I had written a book.
I attended a watercolor painting class from a well-known artist and once again loved "making" something. I painted as often as I could, though it was sometimes a challenge, having to set everything up on my kitchen table and often taking it down before it was dry.
After several years of painting on paper, I observed someone painting on stretched silk and was mesmerized. I immediately signed up for a class and fell in love with the flow of dye on the luxurious silk fabric.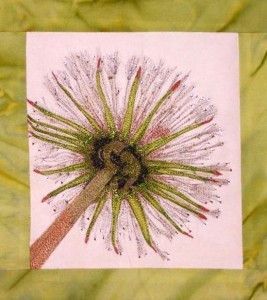 I saw my first fabric landscape on the cover of Quilting Arts magazine at a bookstore. I was so intrigued that I purchased the magazine and was totally bowled over by what artists were doing with fabric – actually "painting" scenes with bits of fabric!
It has been over ten years since I began playing with fabric and have honed my skills with machine and thread, with beads and hand stitching, with paint and dye, and even with adding copper, bronze mesh, copper wire and other fun metal objects to my work.  My artistic path has been a progression of experimenting with more ways to enhance and extend my tactile love of fabric.
Fiber art is a medium that continues to evolve and every day I find something new I want to undertake. I now can combine those skills of painting, stitching, beading and metal work into one piece of fiber art – how thrilling is that?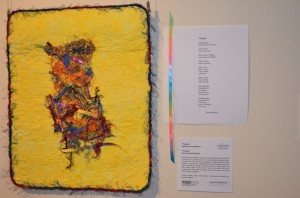 My daughter also has the "create" gene, though she expresses hers through photography. We love going on photo-shoots to different areas and finding interesting textures and viewpoints and subjects. While this is extremely rewarding in itself, I have found that I also use my photos in my art, so the payoff is even bigger.
The summer 0f 2012, I was partnered with poet and writer Anora McGaha for a quilt and writing show called Narrative Threads. The quilt that I put together is experimental in that it pays homage to the threads from which all quilts are made.  Instead of focusing on fabrics, its focus is on the remaining snippets of threads that are a reminder of all of my fiber art projects.
In 2013 I will retire and I have to admit, there are few things in my life that I've looked forward to more; the dream of working in my studio every day fills me with the anticipation of a child on Christmas morning. I am counting the days.
—
Jenny Williams is a writer (on hiatus) and a fabric artist who has a studio in her home in central North Carolina. She is a member of the Professional Art Quilters Association – South, and in 2012 became the President.
Follow her work on Jenny Williams' Art Quilting Blog.
Category: US American Women Writers, Women Artists and Their Writing, Women Writer Artists, Women Writers and Their Art
Women Writers, Women, Books was started in 2011 to offer another way station on the Internet. Interweaving the Conversations, Deepening the Connection. Write editor@booksbywomen.org after reading Submission Guidelines to query.