The short answer: you write his story.
Here's what happened to me. Last summer I was working on the first book in what would be a women's fiction series at the request of my agent. You see, with the exception of one of my previous novels, my books were considered women's fiction, even though some of my themes tended to be a little on the dark side. My agent was convinced my audience, and my skill set were perfect to write a sweet, contemporary story with an ensemble cast that would lead into a fun, three-book series.
And that's what I did. While I was waiting for her to read the second draft of the first book, Paul Strom arrived. Literally, popped into my head. I tried to ignore him. But I couldn't. So I sat down and wrote his story. It didn't take long, not in the traditional sense of novel writing. His voice was persistent and strong. Two months later, I had finished the first draft.
When I told my agent I'd written Best Day Ever, a domestic suspense novel with a male protagonist, she told me she doesn't read male protagonists written by women. She told me I need to focus on women's fiction because that's my brand and that she'd have the second round of edits back soon. I put Paul away, tucked the manuscript into a folder on my computer, and returned to my series. But Paul was still on my mind. During a conversation with my friend and beta reader Andrea, she told me to send her Best Day Ever. I told her not to bother, that the book wasn't on brand for me. She persisted and I sent her the manuscript. Andrea read Best Day Ever overnight and pushed me to ask my agent to read it. This time, she agreed. And, well, here we are, on the eve of my first traditionally published, psychological suspense. All because of Paul.
Paul's singular, strong voice made the process of writing Best Day Ever both surprisingly fast, and exceedingly creepy. When you have a guy like Paul talking to you day and night, well, it can be overwhelming to say the least. And to say the least, Paul isn't a nice man. At his worst, he is a murderer. The fun of an unreliable narrator, when writing, is understanding the layers of his lies. Paul reveals himself slowly, but methodically. He wants the reader to like him, to enjoy spending time with him, to trust him. Of course, to do that, he must lie. He must seem to be something he is not.
Despite the fact he isn't a reliable guy, I hope you enjoy reading Best Day Ever. And my takeaway? If a character pops into your head, fully formed, write his or her story.
—
Kaira Rouda is a USA TODAY bestselling, multiple award-winning author of contemporary fiction exploring what goes on behind closed doors of seemingly perfect lives. Her next novel, BEST DAY EVER, is out September 19th.
She lives in Southern California with her family and is at work on her next novel.
website: https://www.kairarouda.com
Facebook: https://www.facebook.com/kairaroudabooks
Twitter: https://www.twitter.com/kairarouda
Pinterest: https://www.pinterest.com/kairarouda
—
About BEST DAY EVER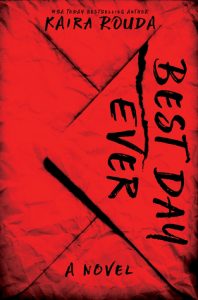 In the bestselling, page-turning vein of The Couple Next Door and The Dinner, Kaira Rouda weaves a gripping, tautly suspenseful tale of deception and betrayal dark enough to destroy a marriage…or a life.
"I glance at my wife as she climbs into the passenger seat, and I am bursting with confidence. Today will be everything I've promised her…and more…"
Paul Strom has the perfect life: a glittering career as an advertising executive, a beautiful wife, two healthy boys and a big house in a wealthy suburb. And he's the perfect husband: breadwinner, protector, provider. That's why he's planned a romantic weekend for his wife, Mia, at their lake house, just the two of them. And he's promised today will be the best day ever.
But as Paul and Mia drive out of the city and toward the countryside, a spike of tension begins to wedge itself between them and doubts start to arise. How much do they trust each other? And how perfect is their marriage, or any marriage, really?
Forcing us to ask ourselves just how well we know those who are closest to us, Best Day Evercrackles with dark energy, spinning ever tighter toward its shocking conclusion.
Praise for Best Day Ever
"An unreliable and chillingly unrepentant narrator." —Kimberly McCreight, New York Timesbestselling author of Reconstructing Amelia and The Outliers
"Highly entertaining and truly surprising!" —Kate Moretti, New York Times bestselling author of The Vanishing Year
Category: Contemporary Women Writers, How To and Tips