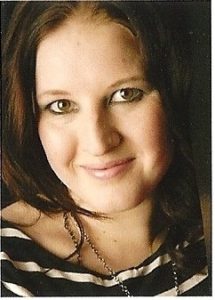 It's a dangerous subject to draw a writer into, the question of books and writers they admire. I don't think I'm generalising when I say that writers love books. We surround ourselves with them, we eagerly devour our favourite author's latest offerings. We write about them, we tweet and blog about them, we spend every spare minute creating them or thinking about creating them. So ask any writer to talk about books or writers they admire and you might not be making it out this century.
So when Women Writers asked me to talk about women writers I admire I took the assignment very seriously indeed – you may as well have asked my five-year-old which his favourite Pokemon is. I started by making a comprehensive list of all of the women writers I'd admired over the years. It was two pages long. I had writers I greatly admire despite not yet having read their books, for their intelligence and the way they have promoted fellow female authors such as Val McDermid and Robert Galbraith. I thought about the books and women who have inspired me over the years and finally I made my list. Here are my choices and why.
Mo Hayder.
To me the sign of a good book is one that stays with you once you have finished it. A book that stays with you for nearly ten years after reading is more than a good book, it's a great one. Pig Island was the first Mo Hayder I read and even now the sense of unease that book created in me gives me shivers. I've read several of Mo's books since and each one is a masterclass in suspense.
Sharon Bolton.
Sharon Bolton, or SJ Bolton as she was when I first discovered her work, is a writer I greatly admire – not just for her creepy and atmospheric novels (I highly recommend Blood Harvest if you're new to Sharon's work) but also as a person. She has strong views and opinions and knows her craft. In fact I'd say that the theme throughout this list is the strength and courage of conviction of the women on it.
Erica Spindler.
As I was growing up I read almost everything Erica Spindler produced. Her twisty plots kept me up way past my bedtime, reading under the covers with a torch in the crook of my neck. I would especially recommend Blood Vines but one of the main things I admire about Erica's work is the volume she produces whilst managing to keep each one as fresh and original as the first.
Agatha Christie.
I'll admit to being a latecomer to Christie's work – I read my first (and probably favourite) of her novels And Then There Were None at the beginning of this year – and had it not been for it being on TV (I wanted to read the novel before I watched the dramatization) I fear I might never have made time to read her work, subconsciously dismissing the idea of it as outdated. I couldn't have been more wrong. This year I've read 5 Agatha Christie novels and not only do I admire her ability to create mystery and intrigue in the simplest of ways but I also marvel at the way her work has stood the test of time and is as enjoyable and intriguing as anything being produced today.
Alex Marwood.
It's no secret that I loved Edgar winning The Wicked Girls so much that as soon as I put it down I submitted my manuscript to Alex Marwood's agent, Laetitia Rutherford, practically begging her to take me on.  I've been lucky enough to get to know Alex in the last few years and she is one of the loveliest and most encouraging women I've met since being published. She's a first class writer who immerses herself in her character's lives and experiences as she writes and studies the DSM V religiously so it's no wonder that her characters are so real and that her books are so deservedly successful.
Claire McGowan.
One of the things I most admire about Claire (apart from her stunning prose and the ability to write gripping crime novels) is how much she has achieved and continues to achieve in her career. Not only does she write successfully in two different genres but she runs workshops, has a job at a university and often writes magazine articles. I'm not sure how she fits it all in! My favourite of her books is The Fall but her Paula McGuire series is extremely good also.
Clare Mackintosh.
As far as successful women go in crime writing Clare is a force to be reckoned with. Following the highly deserved success of the phenomenal I Let You Go Clare might have been forgiven for taking a few years off to rest but instead her second novel exceeds the quality of her first and she is now a global bestseller and household name. For drive, ambition, hard work and talent Clare is certainly someone to admire.
There are so many amazing women writers in crime now that it seems almost impossible to produce a list anywhere near inclusive enough. Impressive voices are emerging year on year, women such as Sarah Hilary, winner of Theakstons Old Peculier crime novel of the year award for her debut Someone Else's Skin, Susi Holliday, author of the Banktoun series and Claire Douglas, author of The Sisters and Local Girl Missing. I could go on, and on, and on about the women excelling in this genre but this lot should keep you busy for a while.
—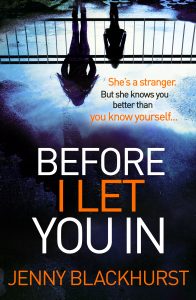 Jenny Blackhurst grew up in Shropshire where she lives with her husband, two sons and their dog. She wrote her first novel, How I Lost You, between feeds and nappy changes after being made redundant when her baby was 4 weeks old.
How I Lost you went on to be a number one ebook bestseller and her second novel, Before I Let You In, reached the Top Ten Amazon Bestsellers list in its first month. Before I Let You In was released in paperback on 3rd November.
https://www.facebook.com/authorJennyBlackhurst/
https://twitter.com/JennyBlackhurst
Category: Contemporary Women Writers, On Writing