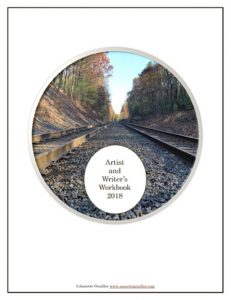 At the end of every year, I review where my writing has taken me over the past twelve months. This process provides me with a mirror of realities I might not have been aware of yet, because what's in my mind is often quite different from what has actually transpired. I have found, for example, that I doggedly submitted to prestigious literary magazines, only to be consistently rejected, while my writing was published in journalistic markets with much bigger audiences. Why had I been chasing down those blind alleys? Only my year-end-review clearly showed me where success was actually to be found. It helped me give up the one paradigm of what I thought success should be and embrace my actual accomplishments.
I began this five years ago, in my Morning Pages notebook, when I made lists of pieces I had published, pieces in the pipeline, as well as ideas for new essays and books. Looking at these lists, I tried to celebrate my successes, and I contemplated my disappointments. I realized, as I connected titles and color-coded topics, that certain themes repeated, and publications dedicated to those themes were, surprise, surprise, where my work tended to get published.
This might all seem like a "duh" kind of moment, but it is always hard to see ourselves, and to define ourselves, isn't it? Homing in on our "vein of gold," as Julia Cameron would say (see her book of the same title) helps us writers figure out who our audience is, which is crucial to success. And yet, quite often, this is so very hard to figure out. Which writer has not stumbled over the question, "So, what do you write about?"
As my year-end-review lists accumulated, I thought, why not organize them? Why not have a central place, a writer's workbook, to review my year as a writer and plan for the next? The result was my Artist and Writer's Workbook, that I, since then, update and release to my community of subscribers every December.
Truth be told, going through my own workbook at the end of every year is also a bit annoying because there are parts of it I don't want to think about. Questions such as, how did you nurture your writing this year? Because this year, I didn't. I wrote and published a lot, and I was so focused on promoting my book that I neglected to refill the very well I kept drawing from.
It is an uncomfortable question but also an important one. Like a wise mentor, my workbook nudges me to acknowledge that my writing life has been out of balance this year. That's not a bad thing, but it's not a state of affairs that can be sustained.
To be honest, I've been feeling the effects for some time now, but going through the workbook points out what's been amiss, and it helps me cook up plans to address that imbalance as I embark on another year of writing. If you're interested in reviewing your own writing year, sign up for my newsletter and you'll receive my Artist & Writer's Workbook 2018 as a free download.
—
Annette Gendler is the author of Jumping Over Shadows, the true story of a German-Jewish love that overcame the burdens of the past, published by She Writes Press in April 2017. She's been teaching memoir writing at StoryStudio Chicago and around the world since 2006.
Find out more about her on her Website http://annettegendler.com/
Category: How To and Tips